American Ranger 1 Gyroplane
The award-winning American Ranger 1 (AR-1) is a modern gyroplane proudly manufactured in the USA by SilverLight Aviation. Our 12000 sq. ft. factory is located in the greater Tampa Bay area of central Florida, which graces us with nearly year-round favorable weather for test flying and pilot training. Builder's assist is available at our facility at Zephyrhills Municipal Airport. This ensures that your gyroplane is assembled properly with knowledgeable mechanics and electrical technicians, and that you have help obtaining your aircraft's airworthiness certification.

The AR-1 combines eye-catching design elements and style, balanced with ever-important safety features and performance. The AR-1 cuts through turbulence and high wind better than most gyroplanes, for smooth and comfortable flying. With speeds ranging as high as 110 mph or as slow as 25 mph, you can enjoy a cross-country adventure or sight-see around your environment at a leisurely pace, while in complete control.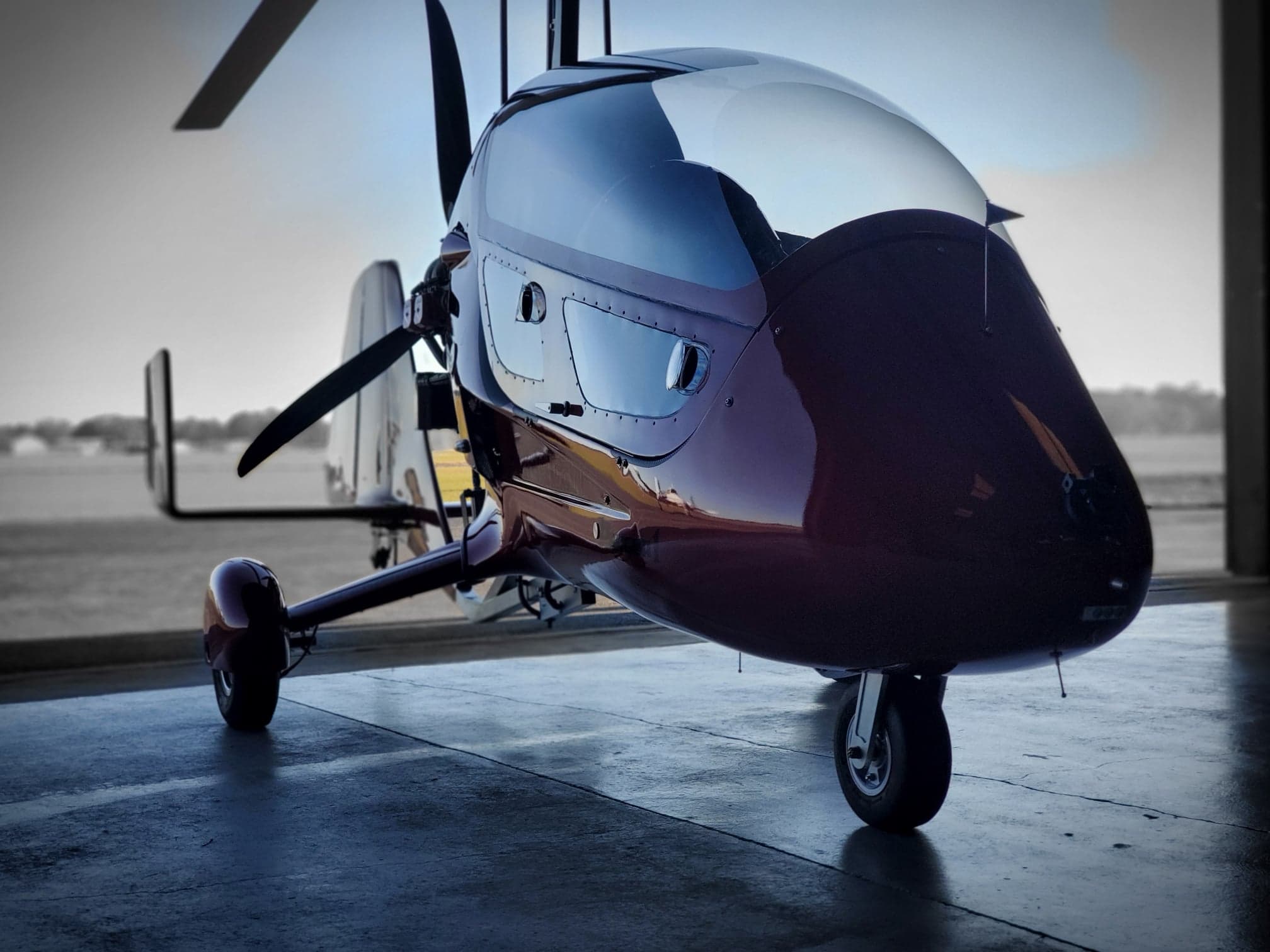 Enclosure Options
The AR-1 gyroplane has a convertible option (AR-1C), with the choice of being fully-enclosed or having two windshields. This is a unique option, in its class and price range, giving you the option to fly with a semi-open cockpit with windshields or with a fully-enclosed canopy with cabin heat for winter months. This gives you the best of both worlds in one gyroplane. The enclosed canopy can also be ordered and installed at a later point by the factory or service station.
Engineering
The rotor system is the venerable high-inertia Stella rotor system by Averso, which is Aluminum alloy rotor with over 14 years of history without a single crack. The carriage is built on a high-strength welded stainless-steel frame, with a fiberglass composite streamlined fairing, with an effective tail for excellent stability and control.
The AR-1's controls are easily accessible and made primarily of metal tubes not push-pull control cables. The main landing gear is 7075-T6 aluminum leaf spring which supplies a slower spring back rate than composite leaf gear found in many production machines. Landing gear is covered by lift generating composite fairings. Hydraulic disc brakes are installed on both main wheels, with wheel pants.
The AR-1 gyroplane has a composite three or four blade propeller, a high pressure parking brake valve under the pilot seat on the right side, an electrical speed trim actuated via the top center hat on the stick and mechanical pre-rotator to start the blades rotating before takeoff and rotor brake system with lever actuated under pilot's left leg with an over center pull up, completes cockpit driven systems
Additionally, the AR-1 is available powered by field-proven industry standard Rotax aircraft four-stroke power plants. It comes with a choice of either Rotax 912ULS (dual carbs) or 912iS (fuel injected) 100 HP engine or the turbocharged Rotax 914UL 115HP engine for better performance and operation at higher altitudes or the latest technology in Rotax aircraft engine line, Rotax 915iS, with fuel injected turbo charged 141 HP that can really kick things up. The kit can be supplied with or without the engine upon customer's request. 17 US gallon Aluminum welded fuel tank ensures compatibility with any type of fuel.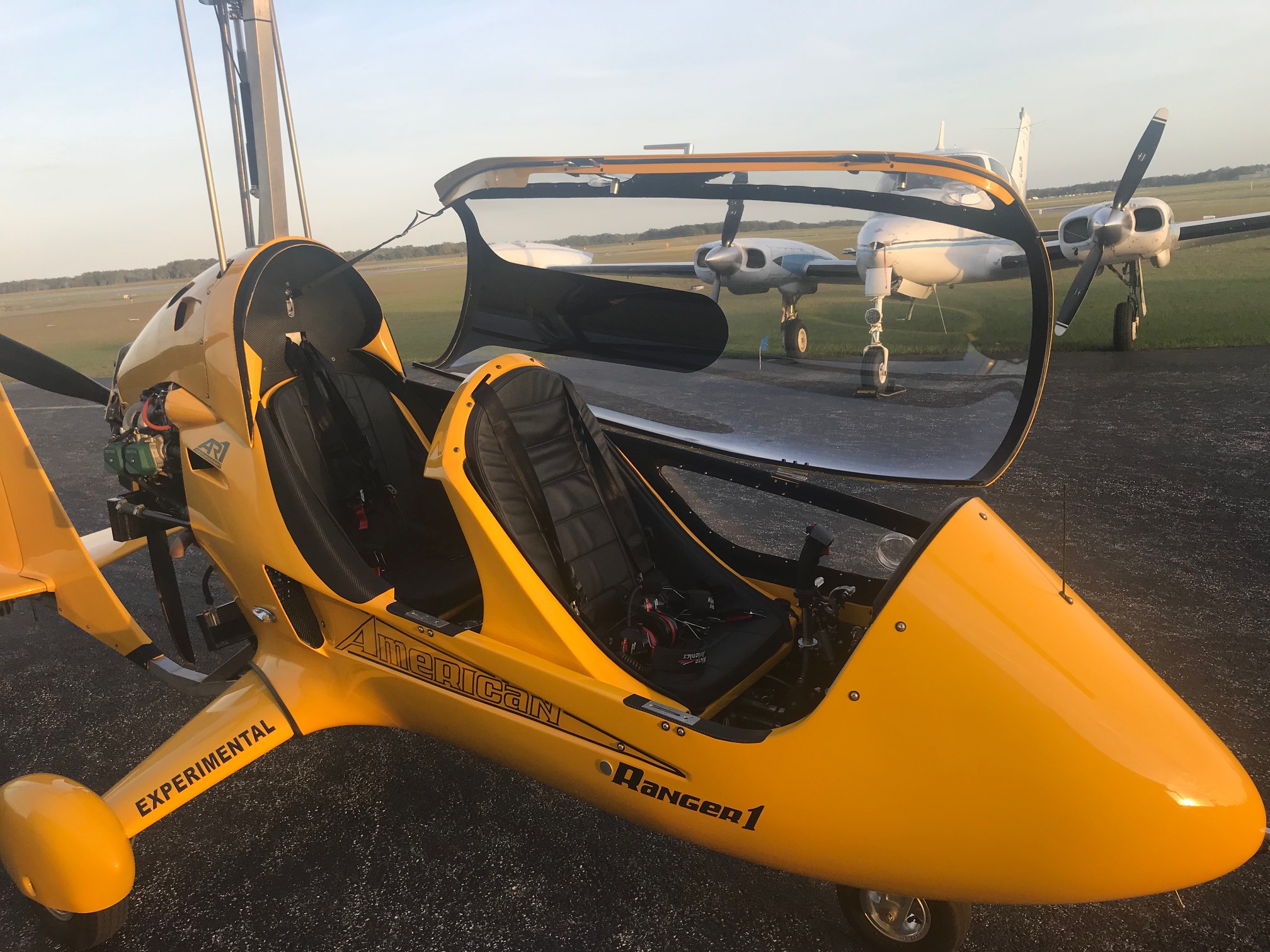 Cockpit
Both of the gyroplane's seats are comfortable, with the front seat being more spacious to accommodate for the pilot's controls. The tandem configuration allows for panoramic views for both the pilot and the passenger. The instrument panel is arranged intuitively with conventional gauges and space for Garmin 696 or 796 GPS, iFly GPS 740. If you are technology savvy you can have your gyroplane with MGL Avionics Xtreme or iEFIS Lite systems.
The back seat has a glove box which can be converted into a back seat instrument panel for an instructor.
---
Flight Dynamics
The American Ranger 1 (AR-1) gyro establishes new norms in modern pusher-style gyroplanes, with its expanded and more effective tail, closer to CG thrust line and offset in-flight dynamics. The AR-1 has little coupling between power and yaw, and power and pitch. This is achieved after careful engineering and flight testing, where other models or similar looking configurations may exhibit these characteristics, AR-1 does not and thus behaves as a more forgiving aircraft.

The AR-1's high inertia rotor system and clean lines give it a better glide ratio and energy retention, making landing easier and more forgiving – even for beginner pilots. Its flexible landing gear absorb and release energy back slowly rather than simply spring back landing shocks.

Its front (or nose) wheel is linked to the rudder for easier taxing, but also has trail which allows a good compromise in both ground handling and in lessening danger of a pilot touching down the nose wheel while the front wheel is angled sideways (like in a crosswind but there is still some forward speed left). The front wheel will try to straighten itself out. In fact, the faster you go, the more the front wheel wants to go straight.

Additionally, the AR-1's landing gear fairings act as small wings at faster speeds and also help further stabilize the gyroplane. A full descending pedal turn shows its effective rudder without power at very slow speeds. These points show the AR-1's superior in-flight control compared to similar configurations. It's possible to have five bags. Two under front seat bags provide spacious storage of up to 15 pounds. Optional landing gear fairing large wrap around bags, afford you ample space to pack for an adventurous weekend getaway.
---
Support
SilverLight Aviation is no stranger to light aircraft, aircraft design, engineering and certification for multiple categories of aircraft. The US-based support is personal, technical and responses are fast. You are not just a number among thousands and your answers are given to you by experienced engineers and pilots who know the details about the design and sub-systems used in the aircraft. .
---
Specifications
Empty Weight: 646 lbs (912ULS/912iS), 665 lbs (914UL), 697 (915iS)
Gross Weight: 1200 / 1232 / 1260 lbs
Style: Pusher, tri-gear, tandem seating
Minimum Speed (Vmin): 25 mph
Max Cruise Speed: 110 mph
Max straight and level speed (Vh): 105 mph (912ULS, 912iS), 110 mph (914UL), 120 mph (915iS)
General Cruise: 55 mph – 100 mph
Never Exceed Speed (Vne): 120 mph
Takeoff roll at ISA (calm air, short prepared grass, pre-rotate to 200 RRPM): 450 feet (912ULS/912iS 100 HP), 350 feet (914UL 115 HP), 200 feet (915iS 141 HP)
Takeoff distance to clear 50 foot obstacle (standard conditions): 1200 feet (912 ULS/912iS, 100 HP), 980 feet (914 UL, 115 HP), 750 feet (915iS, 141 HP)
Landing roll: 0 to 30 feet with proper technique
Landing over 50 foot obstacle: 500 feet
Rate of Climb at sea level, ISA: 725 FPM (912ULS/912iS) / 850 FPM (914UL) / 1300 FPM (915iS)
Fuel: 17 USG
Fuel Burn at Cruise: 4 to 6 GPH
Rotor: Averso Stella, 28′ 3″ (8.6 m) (larger rotor of 8.8 m available for high altitude flyers)
Dimensions: Height: 9 feet, Width: 76.5 inches, Length: 17.7 feet. Folding Mast Option (folded): 6.1 feet